WATERING IRRIGATION:
WATER THE SHAPE OF YOUR LAWN
AND YOUR GARDEN AT THE SAME TIME

With the new low-pressure Intelligent Sprinkler by VariThrow, watering irrigation has turned a new corner. And you can do it all at a fraction of what typical in-ground sprinkler systems cost.
You can now say good ridance to all those trenches that normally needed to be dug throughout your lawn for installing a bunch of unnecessary pop-up sprinklers connected with PVC pipe.
You can now water the exact shape of your lawn with a single Intelligent Sprinkler by VariThrow, which is custom-set for the shape of your lawn. And by connecting it with drip poly tube, your garden gets watered when you turn your Intelligent Sprinkler on.
Why shouldn't you save money on watering irrigation and be happy, too? Now you can do both.
please check with your local water supplier to see if there are any restrictions on using this type of watering system is allowed, if you are looking for the conatc number for Thames Water then use the following link thames water contact number and thames water will be able to provide you with any information you require.


COMMERCIAL-GRADE LAWN AND GARDEN WATERING IRRIGATION
HAS NEVER BEEN MORE AFFORDABLE OR EASY TO INSTALL

Our Intelligent Sprinkler eliminates the need for what's called overlapping ''head to head coverage'' that uses multiple sprinkler heads. That's old technology.

And because the Intelligent Sprinkler by VariThrow is a low-pressure system, you can connect it to the water source with drip poly tube. So when you turn on your Intelligent Sprinkler to water your lawn, the nozzels in the drip tube at each plant make sure your garden gets watered, too.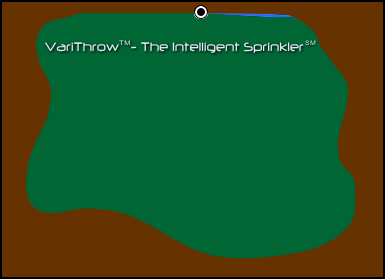 As you can see above, now it only takes a single Intelligent Sprinkler to water your lawn.


To water the lawn shape with an Intelligent Sprinkler by VariThrow, the variable-throw mechanism allows you to custom set the distance that the water sprays for each 3 degrees of rotation. So as the spray head rotates, the water is constantly adjusting to water the exact shape of your lawn. And the distribution, because of the professional rotor, distributes the water evenly across the shape of your lawn.

All professional rotors are independently tested for distribution uniformity, including the replaceable Hunter® PGP Ultra and I20 rotors installed in our Intelligent Sprinkler models. The Intelligent Sprinkler's replaceABLE Hunter® PGP Ultra rotor takes the foundation of the best-selling PGP rotor, with a variety of new features developed over three decades of Hunter Industries research, customer feedback, and lab testing.

So why have a bunch of pop-up spray heads installed all over your lawn, when you don't need to? And then have to water your garden separately. Now you can save all those thousands of dollars in labor costs to dig trenches throughout your lawn to connect all the pop-ups with PVC pipe.

The professional Hunter® rotors in our Intelligent Sprinkler models are designed to water your lawn evenly. And our variable-throw mechanism will allow you to custom-set your Intelligent Sprinkler to water the shape of your lawn.


REPLACEABLE HUNTER ROTOR
SPEC AND DATA SHEETS:




Replaceable Hunter® PGP Ultra Rotor
Operating Specifications
Radius: 17' to 47'
Flow rate: 0.36 to 14.8 GPM
Recommended pressure range: 25 to 70 PSI
Operating pressure range: 20 to 100 PSI
Precipitation rates: 0.4 in/hr approx.
Nozzle trajectory: Std = 25 degrees, Low angle = 13 degrees
Click here for specs and data sheet for the Hunter® PGP Ultra rotor

Replaceable Hunter® I20 Rotor
Operating Specifications
Radius: 17' to 46'
Flow Rate: 0.36 to 14.8 GPM
Recommended pressure range: 25 to 70 PSI
Operating pressure range: 20 to 100 PSI
Precipitation rates: 0.4 in/hr approx.
Nozzle trajectory: Std = 25 degrees, Low angle = 13 degrees
Click here for specs and data sheet for the Hunter I-20 rotor